NOIDA/GHAZIABAD: As offices and industries start reopening, more people will be able to move out in Noida and
Ghaziabad
after revised guidelines redefined how
containment
will work — both in terms of area and the period of containment.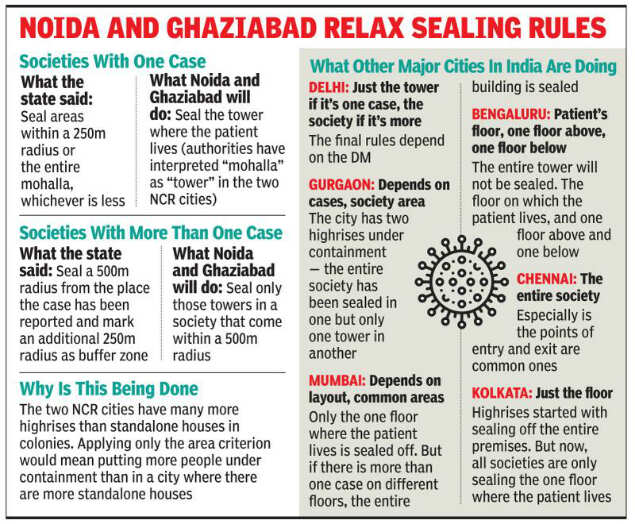 In Noida, at least 15 societies with just one case and five with more than one case will see relaxations kick in — just one tower will be sealed in societies with one case and in those with more, only the towers within the 500m containment radius will be closed off. In Ghaziabad, the health department has decided to do the same — sealing only the tower in which the patient lives and not the entire society. It has also decided to make the sealing period flexible — some areas could be unsealed in 14 days instead of 21. In Noida, too, officials said some areas could be unsealed earlier if the risk of infection is assessed to be low.
But even with these relaxations, sealing rules in NCR are still much more stringent when compared with India's worst-affected city, Mumbai, which is sealing only the affected level or floor in modern highrise complexes where flats are spaced out, helping achieve social distancing through architecture. Most of NCR's condominiums are modern, uncluttered designs.
Since both Noida and Ghaziabad have a large number of highrises, a large number of people get affected by sealing of a society, which is why residents have been calling for a rationalisation of the rules, pointing out that every time a Covid-19 case is detected, the entire residential society cannot be asked to stop going to work.
"We realised that unlike other districts, Noida has many societies that are spread across a large area. Offices are opening and we have been getting many requests from residents who have to return to work," said Noida district magistrate Suhas LY.
So the district administration worked around the definition of "mohalla" — the state government had notified that areas in category 1 (with only one active Covid-19 case) would seal off areas in a 250m radius or the entire "mohalla", whichever is less. "We decided to define a mohalla as a tower," the DM said.
In Ghaziabad, too, the demand had been rising to open up areas so work and economic activity could resume. "Offices and shops are open. Work is starting again. Sealing of the entire society hampers people who are otherwise unaffected by the infection. A lot of residents have been saying they will lose their jobs if they can't move out," Ghaziabad chief medical officer Dr NK Gupta said.
The process is unfolding in phases. On Wednesday, the relaxations were applied to seven of the 20 societies in Noida — Sai Upvan (near Haibatpur village), Galaxy North Avenue 2 (Gaur City 2), Panchsheel Hynish (Sector 1), Sata Zion (Gaur City 1), Samridhi Grand Avenue, Nirala Estate (Patwari village) and Ace City. All are in Greater Noida and only one tower is sealed in each now. On Thursday, at least six more societies could be unsealed to some extent — Purvanchal Royal Park (Sector 137), HIG Apartment (Omicron 1), Amrapali Princely Estate (Sector 76), Dhawalgiri Apartment (Sector 11), Ajnara Homes (Greater Noida) and Amrapali Silicon City (Sector 76).
In Ghaziabad, the containment area of Jaipuria Sunrise Greens in Ahimsa Khand was reduced to just one block where a Covid-19 case was reported on Sunday. The society has 15 towers and more than 1,100 flats.
To residents, it was a long overdue relaxation, though still not rational enough. "We had been demanding this for a while now. Under the older rules, a society could remain sealed for a very long time. It is unjustified to stop the movement of some 3,000-odd people because there has been one case in the society. The sealing area, in fact, should be limited to the floor only," said Alok Kumar, founder of the Federation of Association of Apartment Owners (FedAOA). In Noida, too, the relief about being able to step out for work was tempered with concerns about how long even these restrictions have to be in place.
"People are starting over, talking about learning to live with Covid. The administration should soon start thinking about sealing only the affected floor or a smaller area if there are multiple cases," said Rajiva Singh, president of Noida Federation of Apartment Owners Association (NOFAA).
A revised list of containment zones in Noida is expected on Thursday.