Send revised proposal for Traffic Directorate -Home Minister Dr. Mishra

Modern police motor-driving training school to be built in Datia
Review meeting held at PTRI 


भोपाल : मंगलवार, नवम्बर 17, 2020, 21:29 IST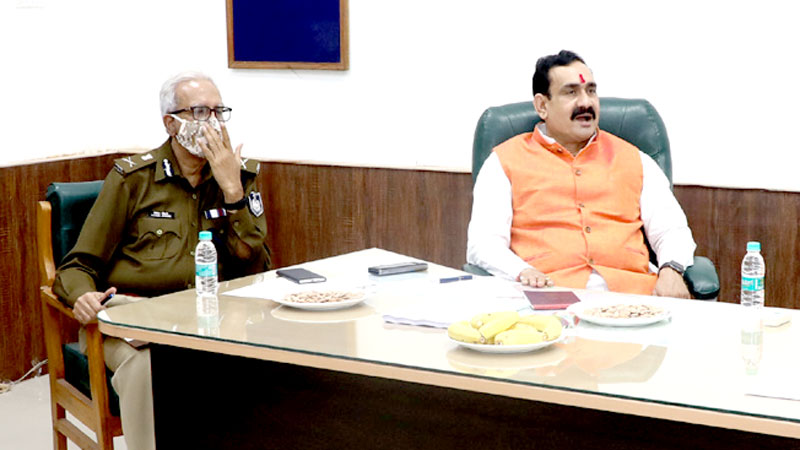 Minister for Home Dr. Narottam Mishra reviewed the road safety related works at Police Training and Research Institute (PTRI). He directed to prepare the revised proposal in one week and send it to Mantralaya for set-up of Traffic Directorate Command Centre in Bhopal. Dr. Mishra also instructed to send a proposal to the government in context to build a modern police motor-driving training school in Datia on the lines of Tamil Nadu within a period of 15 days. Director General of Police Shri Vivek Johri and Additional Chief Secretary Home Dr. Rajesh Rajoura were also present at the meeting.
In the meeting, Additional Director General of Police, PTRI Shri D.C. Sagar informed that the maximum black spots i.e . 29 in Khargone, 24 each in Sehore and Morena have been identified. Minister Dr. Mishra asked to circulate necessary instructions to the road agencies to carry out the work on the identified black-spots of accident prone zones as per guideline issued by the Supreme Court for road safety. Stressing on the need to convert the available budget amount into non-lapsable fund, Shri Sagar said that this will help the fund not to get lapsed in maintaining roads and smooth traffic. Home Minister Dr. Mishra instructed to take necessary action for the gazette notification of non-lapsable fund and send the same to the government.
Minister for Home Dr. Mishra praised the award scheme launched to enourage those who help victims of road accidents during the Golden Hour (Within one hour of accident). He said that the people who help victims will get the necessary help from the police as per the constitutional provisions and they will also get relief from various types of inquiries and testimony. They will not be called unnecessarily. It was informed in the meeting that people who help victims during the emergency and voluntary or government organizations engaged in the work of making road and traffic safe will be honoured with reward of Rs. 5 lakh, 3 lakh and Rs 2 lakh respectively in separate categories.


Alune