JAIPUR: Two persons have been arrested from Bikaner and Jhunjhunu by the state intelligence bureau for espionage and allegedly passing on information to Pakistani intelligence. Both the accused are in their 20s. According to sources, officials had been keeping an eye on the two suspects for the last few days.
The two arrested have been identified as Vikas Kumar (29), a civil defence employee at an Army ammunition depot near Sri Ganganagar, and Chiman Lal (22), a civil contractual employee of Army's Mahajan Field Firing Range (MFFR), Bikaner. Speaking about the arrests on Monday, state ADG (intelligence) Umesh Mishra said, "We kept a watch on the suspects' activities. After questioning them and as well as going through their mobile phones, we found that the two had been leaking confidential information to Pakistani agents, following which they were taken into custody."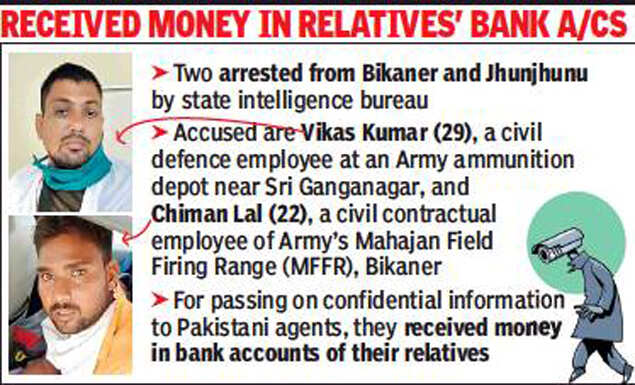 According to sources, Vikas has been acquiring photos of a water distribution register at a water point/pump house in MFFR through contractual civil employee Chiman Lal and passing them on to Pakistani agents. While Vikas is the son of a retired Army personnel and hails from Jhunjhunu, the latter is a native of Bikaner. Sources claimed that Vikas met his Pakistani handler through a woman he met on social media. They allegedly revealed confidential information of military intelligence to Pakistani agents.
While further interrogation is underway, officials stated that the two alleged spies had received money in exchange for information. "Preliminary questioning revealed that the accused received money in bank accounts of their relatives. We are questioning the relatives as well for more details. Multiple agencies were involved in their arrest," said Mishra.
This is not the first time that people have been arrested from the border districts on charges of spying. Last year, in November, a jawan posted in Jaisalmer's Pokhran was arrested for the same crime. Prior to that, an ISI agent was arrested from Delhi for allegedly honey-trapping jawans in Rajasthan for espionage.