MUMBAI: After Samir Bosak, a nine-year-old boy, died under a branch that came loose from a tree outside his home in Marwadi chawl in Lower Parel on Friday, BMC officials said that since the tree was on private premises, it was the responsibility of the land owner or society to maintain and trim it.
The BMC trims trees on private premises for a charge if it receives a complaintcum-request to do so.
TimesView
Every time such an incident occurs, the BMC points to the fact that the tree was on private premises. The civic body needs to frame a proper mechanism which enables coordination and communication with housing societies so that tragedies are prevented and buck-passing is not what the corporation is left to do in order to save face.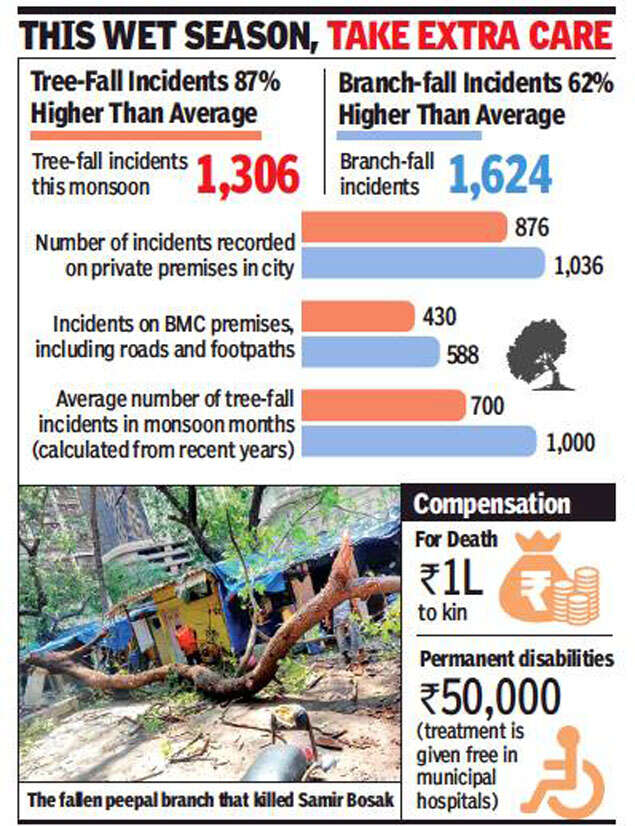 BMC officials said that this year more trees and branches collapsed compared to any year in the recent past. Most of the incidents were from the time of cyclone Nisarga, which made landfall in Alibaug in June but also had an effect on the city, and the heavy rain with strong winds at speeds ranging from 70kmph to 106kmph in the first week of August.
Municipal officials said that after the first week of August, when half of the total tree- and branch-fall incidents that have occurred so far were reported, they again surveyed trees.
The BMC removed several trees and trimmed the ones on the roadside. Officials said that at some places they trimmed the trees on private premises following complaints.
They said that trees on private premises are to be maintained by the land owners or societies and may be trimmed after taking BMC permission. If a request is made for the work and the charge is paid, the BMC takes up the task.
Officials said that within a month they had surveyed all the trees on the main roads.