Written by
RAMENDRA SINGH
| Lucknow |

Updated: August 6, 2014 6:23:44 am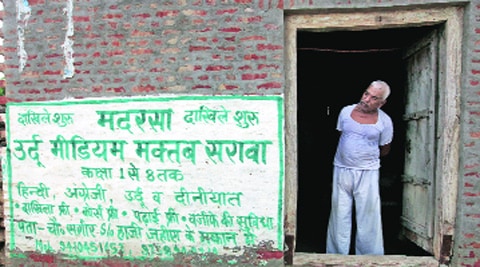 An advertisement of a private madrasa on a wall, in Sarawa village of Meerut. Source: Ravi Kanojia
The medical examination of the 20-year-old former madrasa teacher, who has alleged that she was abducted, gangraped and forcibly converted to Islam, has found that she had been operated for ectopic pregnancy — a complication arising out of the foetus growing outside the uterus — last month, according to the police.
The woman, who was a part-time teacher at a madrasa in Sarawa village of Meerut's Kharkhoda police station area, had alleged that she was operated in a Muzaffarnagar hospital on July 23. She had marks of stitches on her stomach.
DGP A L Banerjee said the medical examination found that a surgery was performed on the girl for ectopic pregnancy. "The girl's statement under CrPC 164 has been recorded before a magistrate and police will probe the case on the basis of that statement," Banerjee told The Indian Express.
In Lucknow, secretary (home) Kamal Saksena and IG (Law and Order) Amrendra Sengar, said the medical examination has not stated anything about sexual assault.
DIG, Meerut Range, K Satyanarayan also confirmed the medical examination's finding but said that no organs of her body have been found missing.
The DIG also said that police have found an affidavit about the woman's religious conversion, which was performed by a maulvi from Hapur. The woman has alleged that she was forced to sign the affidavit, dated July 30. "We have taken the maulvi, who performed the conversion, into custody. He says the woman got converted voluntarily," Satyanarayan said, adding that they were further probing the allegation.
According to police, the woman's allegation that other Hindu women were also abducted and kept at a madrasa in Muzaffarnagar has not been found true. "Police visited the madarasa in Muzaffarnagar but no Hindu women were found there. Police are investigating it but her allegation about others being kept captive at madrasa has not been found true," the DIG said.
Muzaffarnagar SSP HN Singh also said the police did not find any Hindu women in the madarasa.
Police have already arrested three persons — Sarawa village pradhan Nawab; Samar, the wife of main accused Sataullah; and Nishat, the woman's friend, who allegedly got the complainant in touch with the main accused.
📣 The Indian Express is now on Telegram. Click here to join our channel (@indianexpress) and stay updated with the latest headlines
For all the latest India News, download Indian Express App.