Serena Williams
underlined that she's a perfectionist, yet again. Not that anyone contested the 23-time major winner's claim. After blitzing Russian
Margarita Gasparyan
6-2, 6-4 in the US Open second round, the 38-year-old said one of her earliest memories was the exercise of writing alphabets when she was three or four years of age.
"If it wasn't perfect, I kept erasing it until I got it perfect. I would redo and redo it. I didn't finish my homework because I kept erasing it. It's so, so crazy because my daughter does the exact same thing," she said, having set up a challenging third-round meeting on Saturday with the 2017 champion
Sloane Stephens
.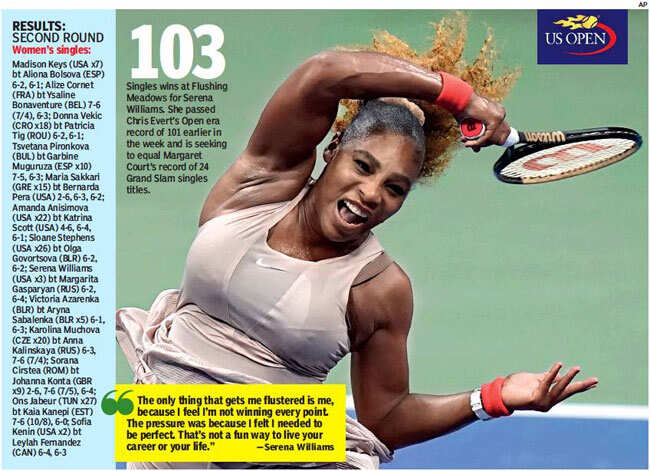 Serena, seeded third, appears to be finding her match feet, balancing emotions and expectations, after struggling in her first two tournaments on her return to competition. "The only thing that gets me flustered is me, because I feel I'm not winning every point," says the American, who is chasing a record-equalling 24th Grand Slam title. "The pressure I felt was because I felt I needed to be perfect. That's not a fun way to live your career or your life."
Serena explained: "I always feel joy when I win. But that's unrealistic, because you can't win every single match every time. That's the kind of pressure I put on myself. I had to take a step back and just really say, okay, Serena, no matter who or what you are, no one has ever done that."
The legend plays endless mind games with herself. No one, really, she countered. What about Floyd Mayweather? He retired undefeated from professional boxing.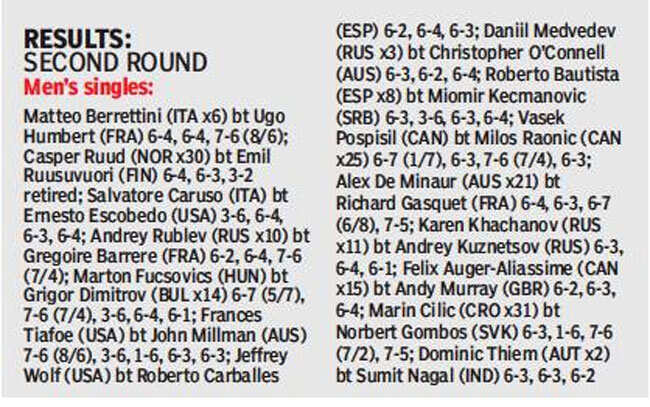 The American superstar, who is looking for her first Slam title since she won the 2017 Australian Open when she was eight weeks pregnant, is rediscovering joy in the journey. It hasn't been easy, given that she has lost four major finals in the last two years, including the 2019 US Open.
"I'm so grateful to still be out here," Williams, whose daughter Olympia just turned three, said.
The senior pro leads her 27-year-old compatriot 5-1 in head-to-head clashes, but the two haven't played each other in five years. "It doesn't really change. She's a great competitor. It's always going to be intense. You know, who I am on the court, so that's the only thing I can do," she said of the all-American face-off before empty stands, adding, "I'm playing such a good player early, so I have to bring what I can even earlier."
In other results, the 20-yearold Felix Auger-Aliassime from Canada thumped 24 aces to stop Briton Andy Murray. The 15th seed won 6-2, 6-3, 6-4 in a game in which he powered 52 winners. In an all-Canadian affair, Vasek Pospisil stopped Milos Raonic.