NEW DELHI: National Conference (NC) chief
Farooq Abdullah
on Saturday said the Peoples' Alliance for
Gupkar Declaration
(PAGD), which is fighting for restoration of special status to
Jammu and Kashmir
, is an anti-BJP and not an anti-national front.
He said the aim of the People's Alliance is to ensure that the rights of people of Jammu and Kashmir and
Ladakh
are restored.
The statement came after the members of People's Alliance for Gupkar Declaration met at PDP chief
Mehbooba Mufti
's residence in Srinagar for the first time after its formation.
"We are anti BJP, not anti-national. Attempts of dividing us in the name of religion will fail. It's not a religious fight," the NC leader said after the meeting.
After the meeting, People's Conference leader Sajad Lone, who also attended the meet, said that Farooq Abdullah has been chosen as the president and Mehbooba Mufti as the vice-president of the recently-floated People's Alliance for Gupkar Declaration.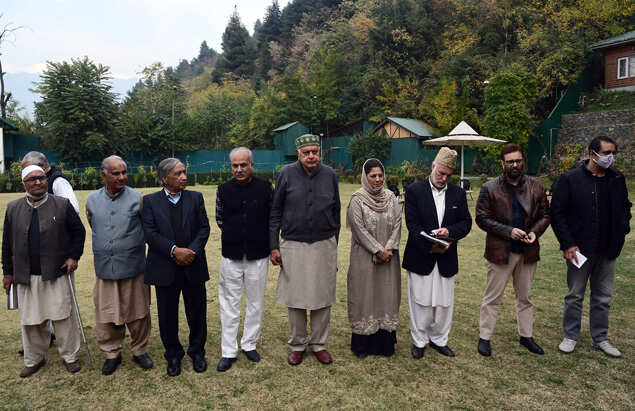 CPM leader Mohammad Yousuf Tarigami is the convenor of the alliance, while Sajad Lone has been named as the spokesperson.
The amalgam leaders adopted the flag of the erstwhile state of Jammu and Kashmir as its symbol.
"A document will be prepared within a month through which we will present facts behind the lies that are being propagated. It'll be a tribute to people of J&K who are being slandered," Lone added.
On Friday, Mehbooba Mufti stirred a controversy after saying that she was not interested in contesting elections or holding the national tricolour till the constitutional changes enforced on August 5 last year were rolled back.
In her first media interaction after her release from 14-month detention, the PDP president said she would hold the tricolour only when the separate flag of the erstwhile state would be restored.
The Jammu and Kashmir BJP slammed her and demanded the PDP chief's arrest for her "seditious" remarks. The BJP said "no power on earth" can either hoist the state flag again or restore Article 370 of the Constitution, which granted a special status to the erstwhile state of Jammu and Kashmir.
Watch 'It's not a religious fight': Farooq Abdullah on 'People's Alliance for Gupkar Declaration' meet